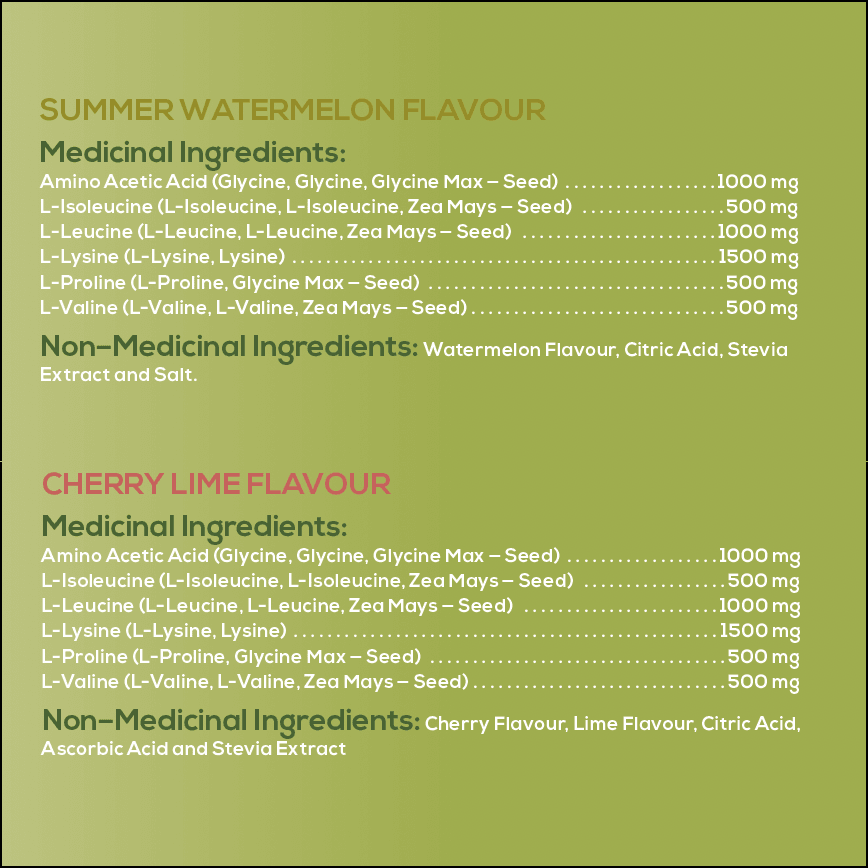 Vegan Collagen Bundle - Get 2 Botany Vegan Collagen Booster 180g
Sale price
$62.99 CAD
Regular price
$79.84 CAD
A unique, vegan-friendly blend of amino acids, which helps the body produce more collagen by supporting our natural collagen synthesis process. Benefits of increased collagen production include stronger hair, nails and reduction of fine lines as well as healthy joints
46 people are viewing this right now
Estimated Domestic Delivery:Oct 05 - Oct 09

Free Shipping & Returns: Free shipping on any orders over $50 for Canada and United States customers, automatically calculated at checkout.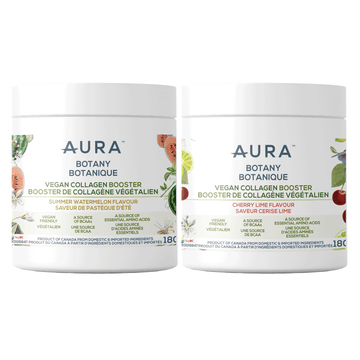 Vegan Collagen Bundle - Get 2 Botany Vegan Collagen Booster 180g
Sale price
$62.99 CAD
Regular price
$79.84 CAD
Product description
Key Features
Health Benefits
Ingredients
FAQs
Customer reviews
• 100% Canadian
• Vegan-Friendly
• Gluten-Free
• Dairy-Free
• Easy to mix
• Free of Artificial Sweetener & Flavour
• Available in two delicious flavours
Botany contains building blocks of collagen (amino acids). Boosts the body's natural collagen production (amino acids). This helps maintain lean muscle and maintains good health when paired with a healthy diet and exercise.
INGREDIENTS:
Medicinal Ingredients:
Amino Acetic Acid (Glycine, Glycine Max-Seed), L-Isoleucine ( L-Isoleucine, Zea Mays-Seed), L-Leucine (L-Leucine, Zea Mays-Seed), L-Lysine (L-Lysine, Lysine), L-Proline (L-Proline, Glycine Max- Seed), L-Valine (L-Valine, Zea Mays Seed)

Non-Medicinal Ingredients:
Cherry Flavour, Lime Flavour, Waterlemon Flavour, Citric Acid, Ascorbic Acid and Stevia Extract.
What is Collagen?
Collagen is the most abundant protein in the body. It is a component of your hair, skin, nails and connective tissues. It has become increasingly known for its beauty benefits and can help play a role in keeping skin youthful and glowing. Typically, the collagen molecule is too large to be absorbed by the body. Breaking the molecule into smaller pieces makes collagen more bioavailable. These smaller pieces are called peptides. Our collagen peptides are easy for the body to absorb and get right to work improving the look of fine lines, strengthening and increasing the growth rate of hair and nails.

Is AURA's Botany a clean–label product?
Yes! We don't add any artificial sugars, flavours, colours or preservatives.

Is Botany Vegan?
Collagen is a protein. Proteins are made up of amino acids. While supplementing with collagen is possible, all current products on the market use ingredients sourced from animal products. Botany provides a specific blend of amino acids to boost the natural process of collagen production in the body sourced from vegan-friendly options.

How do I use my Botany?
Stir 1 tbsp. of Botany into your favourite hot or cold beverage. Add it to smoothies and baked goods for a protein boost too!

Why is there no scoop in my Botany Vegan Collagen?
A serving of AURA Botany is the same as a teaspoon, which most people have handy in the kitchen. This also reduces the amount of plastic waste with each bottle of the product.

What is the inspiration behind the two flavours?
Watermelon is known as the "iconic fruit of summer". Cherries are one of life's tiny treasures, paired with a slight hint of vibrant and zesty lime, this combination is the perfect addition to your water, sparkling water.

Where do I store my Vegan Collagen?
A cool place away from sunlight and moisture is the best place to keep your collagen fresh.

Is Vegan Collagen safe while I am pregnant or breastfeeding?
We always recommend that you talk to your health care practitioner when you are expecting or breastfeeding because nutritional requirements vary.
Several kinds of vegan collagen have been tried by my mom. This is the one that appeals to her most
When it comes to collagen, my mum has sampled many vegan options. This one is more compatible, and to her taste, so she chooses it.
The quality is superb
I'm a huge fan of Stevia, and this flavour is fantastic. It's been great for my skin and joints, so I recommend it.
A quality item
As a vegan, I can't get enough of this protein to maintain healthy hair, skin, and nails. I use this product daily in my smoothies, so the extra vanilla flavour is fantastic. I merely wish it were not so pricey!
This is a fantastic item
Including a sample packet in my order was how I found out about this product. I was so impressed by the taste that I decided to try a more extensive package next time. Not the least bit let down.
That's a terrific taste, for sure
I got to put it simply, it has a fantastic flavour. I put a lot of different stuff in a shake, and when I added this, it really helped mask the less pleasant ones. More time to see if this is actually helping. Still, if all they claim is included, this package is outstanding. Benefit, there's a lot of protein in there, which is always a plus.