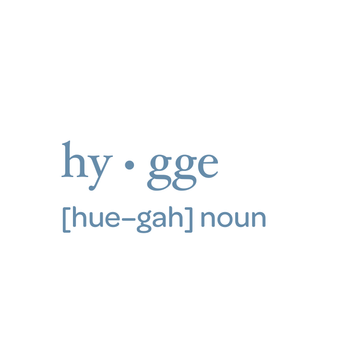 In 2016, a new word took the world by storm. You might have heard of it before or seen it plastered all over social media often paired with pictures that evoke a sense of coziness and warmth. But what exactly is this Hygge phenomenon and why have so many people embraced it? Let's talk about Hygge and how you can cultivate its message of wellbeing to make the most of winter this year.
Hygge is a Danish term pronounced "hoo-guh" and can be used as a noun or adjective. According to the Merriam-Webster dictionary, it is officially defined as "a quality of coziness that makes a person feel content and comfortable." [1] The term derives from the centuries-old Norwegian term "hygga" meaning "to comfort" and notably is related to the English word "hug". In this sense, hygge is all about indulgence, relaxation and enjoyment. 
It's no surprise that the country that has a word that evokes all these things at once is considered one of the world's happiest countries. According to the World Happiness Report, in 2019, Denmark was ranked the second happiest, falling a few points behind its Scandinavian neighbour to the east, Finland. I think the hygge phenomenon can be attributed to this pursuit of happiness. People around the world want to cultivate that sincerity and enjoyment that seems to radiate from the Danes and their Scandinavian counterparts. In fact, the obsession rose so much that dozens of books, articles from respected publications such as The New Yorker and The New York Times were published and even a UK college in Central London devoted part of a course to learning all about the concept of hygge! 
Let's take a deeper dive into what it means to live the hygge life.
Here are 4 ways to include Hygge into our lives this winter:
Comfy clothes - You might be like me, as soon as I get home from a day at work, my work clothes come off and I put on my most comfy PJs or sweats. This is the hygge way and in fact, there is even a word for that pair of sweats that you wouldn't be caught dead wearing in public -- hyggebukser. Other clothes that are considered hygge are woolly socks, oversized sweaters and super-soft slippers. Besides, who wants to wear tight, uncomfortable clothes all day long?
Candles - Candles help create the perfect hygge environment. They can make great decorations plus make your room smell so wonderful while creating a perfect relaxing glow.
Indulge in something good to eat - Comfort food, homemade sweets, or hot chocolate are all fundamental to embracing the hygge life. The Danes are known for the pastries (think tebirkes!) and there isn't as much deprivation or restrictions when it comes to food in Denmark.  In January, while many people are on restrictive diets or abstaining from alcohol, indulging and being a bit gentler with yourself has never been more necessary. Try our Superfood Hot Chocolate recipe*

for the perfect hygge treat!

Relaxing Activities - Relaxing with a book by the fireplace, watching Netflix curled up in bed or taking a warm bath complete with candles, a glass of wine and bubbles are all what I consider a perfect night in, especially in the winter. Hygge is all about slowing down, relaxing and learning to appreciate the small things without spending too much money.
During this time of year, when most people are making New Year's resolutions, on a diet or following a strict workout regimen, hygge is a breath of fresh air, allowing people to slow down, indulge in unhealthy food every once in a while and just appreciate the people and space around them. So when you start to feel the post-holiday stress, take pleasure in the small things, enjoy some time to yourself and learn to embrace your inner hygge. 
---
Kirstin Berrington is an AURA Team member with a passion for all things nutrition and health. As a nutritionist, she is equipped with a B.Sc. in Human Nutritional Sciences to help answer all your food-related questions.
Sources: