Recipes
Chocolate Coconut Protein Overnight Oats
by Sarah Choi on Nov 25, 2019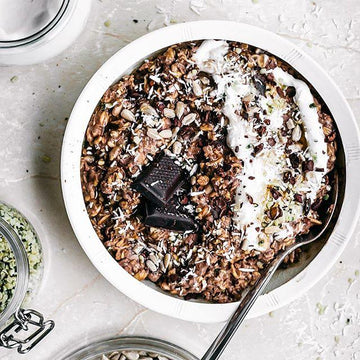 A delicious recipe inspired by our friends @metroontario. Take 5 minutes to prep tonight and enjoy for Sunday breakfast!
What you will need for today's bowl:
1 C rolled oats
1/4 C shredded unsweetened coconut
2 TBSP cacao powder
2 TBSP hemp hearts
2 TBSP chia
2 TBSP sunflower seeds
1/2 TSP cinnamon
1 C non-dairy milk
1/2 C coconut yogurt
1 TBSP maple syrup or honey
What to do:
Combine all ingredients into a container and mix well. Store in the fridge.
Save coconut yogurt and sunflower seeds to top in the morning!
Add a sneaky piece of dark chocolate for good measure.
---
TAG @yourAURAnutrition IN YOUR BAKING/RECIPES!
We would love to share your success and inspire bakers everywhere!" to any/all of our baking recipes. In addition, we can add this to all our recipes and just change the word "baking" to "smoothie bowl creation/to inspire smoothie bowl creators everywhere!