Recipes
Vanilla Hotcakes (V / GF) | AURA Kitchen
by Sarah Choi on Apr 25, 2020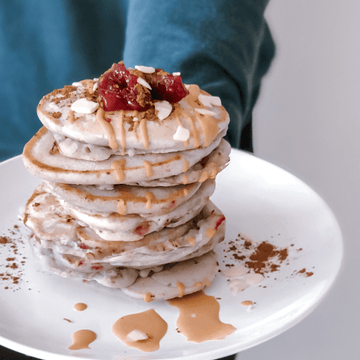 Did you know that Hotcakes and Pancakes are the same thing? These have a delicious hint of vanilla and are super easy to make. This recipe can be versatile by just adjusting your toppings or by adding chocolate. A new weekend tradition has begun, HOTCAKES FOR ALL!
What you need for Vanilla Hotcakes (V/GF)
1 medium spotty banana
1.5 tbsp oil olive, avocado or melted coconut (plus a little more for cooking)
1.5 tbsp maple syrup
2 tsp baking powder
0.25 tsp sea salt
1 cup plant milk (we used vanilla almond milk)
1.5 cups gluten-free oat flour or all-purpose flour
*Makes 12 pancakes
Toppings
Peanut butter drizzle (mix all-natural peanut butter with water)
Cinnamon
Sliver Almonds
Raspberry jam or homemade raspberry compote

What To Do
In a large bowl, mash banana. Then add oil, maple syrup, baking powder, and salt and whisk to combine.

 

*You might need to re-melt portions of the coconut oil if it clumps.
Slowly add plant milk and whisk to combine.
Add flour and protein powder. Gently stir (being careful not to over-mix) to combine. It should be thick but pourable, you can adjust consistency with + more flour or + more milk. If adding fruit, add now and gently fold to combine.
Heat a large nonstick skillet/pan and carefully coat with a little oil.
Once hot, pour/spoon 1/4 - 1/3 cup of the batter onto skillet/pan. Cook until the surface of pancakes have some bubbles and the edges appear dry (2-3 minutes). Carefully flip pancakes and cook until browned on the underside (3 minutes more).

 

*You may need to lower your heat, take your time allowing these guys to cook!
Transfer cooked pancakes to a baking sheet or plate (don't stack pancakes on top of one another or they will get slightly soggy, we did it for the 'gram), keep warm in your oven or covered with a pot lid. Continue cooking until all batter is used up.
For the homemade compote, add AURA Freeze Dried Raspberries, a dash of maple syrup and a little warm water in a bowl, mix and combine, VOILA!
Add your toppings of choice and ENJOY!
---
TAG @yourAURAnutrition IN YOUR BAKING/RECIPES!
We would love to share your success and inspire bakers everywhere!" to any/all of our baking recipes. In addition, we can add this to all our recipes and just change the word "baking" to "smoothie bowl creation/to inspire smoothie bowl creators everywhere!