Media + Event
AURA Nutrition launches 100% Canadian sourced & made AURA Wild Ocean Marine Collagen
by Your Aura on Aug 15, 2019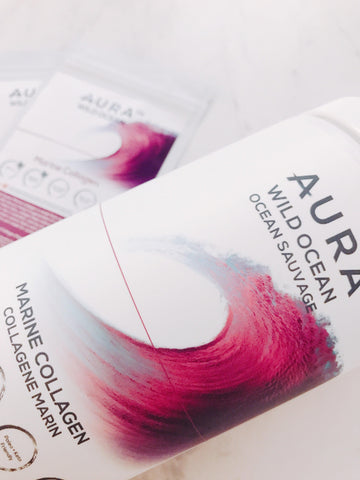 (Vancouver, BC) Collagen supplements have become an essential part of any wellness and beauty routine, and AURA Nutrition is pleased to introduce its new AURA Wild Ocean Marine Collagen. This 100% Canadian wild-caught and deep ocean-sourced collagen enhancer is an all-natural, single-ingredient nutritional supplement that's a perfect complement to a busy life.
The benefits of regular collagen use are well-known: it aids in the process of regeneration of skin, hair, nails, and joint cartilage, helps your body to restore to your skin's hydration and youthfulness, and assists in building lean muscle, burning fat, reducing inflammation, and maintaining bone health.
By using only wild-caught fish, AURA is able to offer all those benefits while ensuring that there is no possibility of its product being exposed to hormones or antibiotics. In addition, the high-quality catch, and strict production controls allow for a product which is odour-free and virtually tasteless. It dissolves quickly for easy use with minimal calories and zero carbohydrates.
AURA Wild Ocean Marine Collagen is made in AURA's Good Manufacturing Practices (GMP)-certified facilities in Vancouver, Canada under the strict regulations set by the Canadian Food Inspection Agency and Health Canada. Along with offering the highest possible standards of safety, its sole ingredient is also sustainably-sourced, Halal and Kosher, keto and paleo-friendly.
Marine Collagen is the latest product from AURA Nutrition, a Canadian owned and operated brand which is building a community of everyday women athletes around products that help fuel and support journeys in good health. With distribution across Canada through Purity Life Foods and Well.ca, AURA Nutrition has become part of the daily health and wellness routine for women across the country.  
For more information about the complete AURA Nutrition line and community, visit www.youraura.ca.
Media Contact
Paul Done, epicmedia
paul@epicmedia.ca
604-644-5423