Recipes
Coconut Chia Pudding Recipe
by Sarah Choi on Aug 15, 2019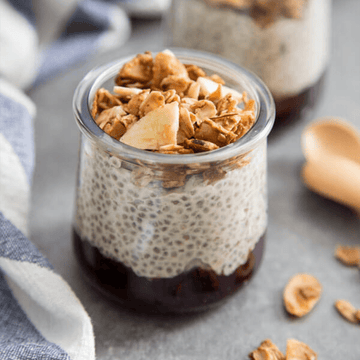 We elevated this pudding with collagen, and a winning combo of delicious fruit; we used mango, pineapple, cherries, and raspberries.
Ingredients:
1 1/2 C coconut milk 
1/2 C chia seeds
1 – 2 TBSP maple syrup (more or less to taste)
1 TSP vanilla extract
1 scoop AURA™ Collagen Generator
Handful coconut clusters (Costco carries some amazing stuff)
*Optional fruit of choice AURA Whole Fruit Raspberries
How to make:
To a mixing bowl add collagen, milk, chia seeds, maple syrup, and vanilla. Whisk to combine.
Cover and refrigerate overnight (or at least 4 – 6 hours). The chia pudding should be thick and creamy. If not, add more chia seeds, stir, and refrigerate for another hour or so.
Layer with fresh fruit, a delicious jam or compote.
---
TAG @yourAURAnutrition IN YOUR BAKING/RECIPES!
We would love to share your success and inspire bakers everywhere!" to any/all of our baking recipes. In addition, we can add this to all our recipes and just change the word "baking" to "smoothie bowl creation/to inspire smoothie bowl creators everywhere!