Recipes
Oatmeal Bowl Recipe
by Sarah Choi on Aug 15, 2019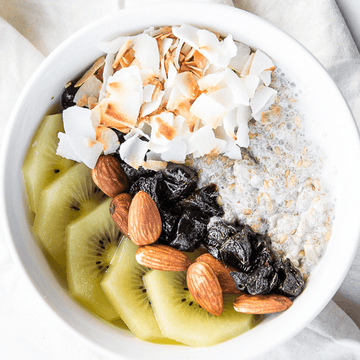 Amazing smoothie bowl recipe via @cleaneatsbykarl.
Today's oats feature:
1/3 C quick organic oats
2 TBSP chia seeds
1/3 C soy milk
1/3 – 1/2  C water
2 TBSP AURA™ Vanilla Plant Based Protein
3 TBSP powdered PB
1/2 TBSP @organictraditions maca powder
1/2 TBSP @organictraditions lucuma powder
Fresh kiwi, blueberries, frozen banana, blackberries & pumpkin seeds
How to make:
Soak oats, chia, soy milk, water, and your powdered ingredients; soak time will depend on the type of oats you use, quick oats are ready the quickest.
Stir occasionally. Add your topping of choice!
---
TAG @yourAURAnutrition IN YOUR BAKING/RECIPES!
We would love to share your success and inspire bakers everywhere!" to any/all of our baking recipes. In addition, we can add this to all our recipes and just change the word "baking" to "smoothie bowl creation/to inspire smoothie bowl creators everywhere!