Recipes
Healthy Two-Bite Brownies | AURA Kitchen
by Sarah Choi on May 20, 2020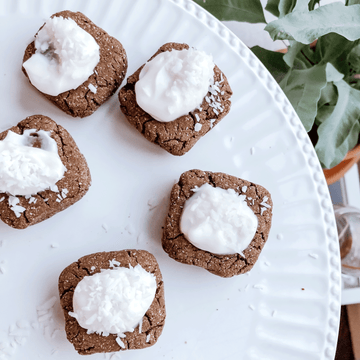 These gluten-free, chocolate brownies are delicious, and keep well in the fridge for up to 5 days for a much healthier version of store-bought brownies! This recipe will make about 10 – 12 brownies has only 7 ingredients and takes 20 minutes to make.
10 – 12 QTY. | 20 MINS.
What you need for today's Healthy Two-Bite Brownies Recipe:
1 C almond flour
1/4 C cacao powder (cocoa will also work)
1/2 C coconut sugar
1/2 TSP baking powder
2 eggs or 2 flax egg (mix 2 tbsp flax with 6 tbsp water, let sit)
6 TBSP almond milk
What to do:
In a medium bowl, whisk together all dry ingredients.
In a small bowl, whisk together all wet ingredients.
Pour wet into dry and combine.
Scoop with a spoon on your hands, make it into squares and place on a baking tray (spray the tray with coconut oil first), lightly pressing on the top.
Bake at 350 degrees for 10 minutes.
Topping
We used Riviera Coconut Yogurt and shredded coconut! Other ideas: nut butter, melted dark chocolate or your fave jam. By day 5, we soaked a few of our final brownies in almond milk... so. good.
---
TAG @yourAURAnutrition IN YOUR BAKING/RECIPES!
We would love to share your success and inspire bakers everywhere!" to any/all of our baking recipes. In addition, we can add this to all our recipes and just change the word "baking" to "smoothie bowl creation/to inspire smoothie bowl creators everywhere!