Recipes
Salted Chocolate Cookie Recipe
by Sarah Choi on Sep 12, 2019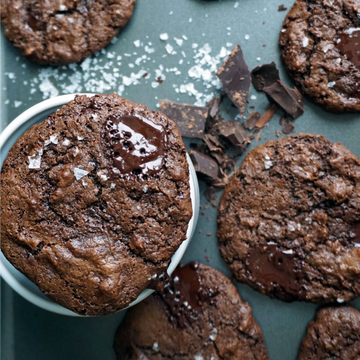 Our friend Jaime @girllovesgloss created this recipe using our AURA™ All Natural Chocolate Whey Protein Powder and they are DELISH!
Today's protein cookie feature:
1 C finely chopped dark chocolate
11 TBSP unsalted butter
1/2 C granulated sugar
1/2 C light brown sugar
2 large eggs
1 TSP Vanilla
1 C flour
2 TBSP corn starch
1 scoop AURA Chocolate Protein Powder
3 TBSP cocoa powder
1 TSP baking powder
1/4 TSP salt
Pink Himalayan salt for sprinkling
How to make:
Preheat oven to 350°.

Line 2 cookie sheets with parchment paper or a nonstick baking mat.

In a stand mixer, beat eggs, sugars, and vanilla on medium for approx. 5 mins.

Melt butter and chocolate together in a microwave-safe bowl in 15 sec. intervals, stirring frequently until melted.

In a separate bowl, whisk together flour, corn starch, baking powder, protein powder, cocoa powder, and salt.

After egg mixture is done beating for 5 mins., slowly pour chocolate mixture while mixing on slow for approx. a minute.

Slowly add dry mixture until combined. The dough will be wet.

Use an ice cream scoop to scoop out 12 even portions, 6 per sheet with 2 inches of space (they will spread)!

Generously sprinkle Himalayan salt on the top of all cookies.

Bake for 10 mins., then allow cookies to cool on the pan for a minimum of 15 mins.