Recipes
Friday Smoothie Bowl Recipe
by Your Aura on Apr 01, 2019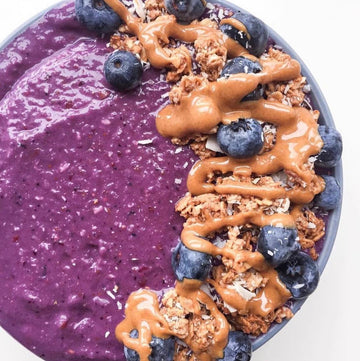 Another Friday, another awesome SMOOTHIE BOWL RECIPE via this babe @tiu_archaeologist.
Today's post-yoga Very Berry Smoothie Bowl is going to be on repeat this week because lately I have been craving a little sweetness in the morning.
You'll need:
1 banana
1/2 C frozen cauliflower 
1 C frozen mixed berries (cherries, strawberries, blueberries and blackberries)
1 scoop AURA Plant Based Protein Vanilla
1 TBSP ground flaxseed 
1 TBSP almond butter 
1 TBSP unsweetened coconut flakes 
1 TSP ashwaganda powder
1 C unsweetened almond milk
What to do:
Blend and top with granola, blueberries, unsweetened coconut flakes and almond butter. ENJOY!