Recipes
Superfood Hot Chocolate | AURA Kitchen
by Sarah Choi on Dec 20, 2019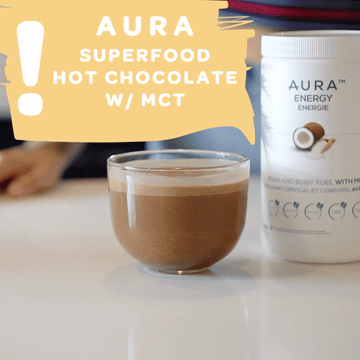 Did we mention this before? This Superfood Hot Chocolate is a must for Hygge this Christmas.
This is a MUST MAKE over the holiday season or throughout the winter! Our AURA Superfood Hot Chocolate is packed with antioxidants and a boost of healthy fat for optimal brain function. You could spice it up with some turmeric for an anti-inflammatory boost, or some Almond Baileys for a vegan adult beverage on Christmas Day.
Superfood Hot Chocolate
Prep time: 3 mins
Blend time: 30–60 seconds
What You Will Need
1/2 C water
1/2 C liquid: plant milk, milk (we used cashew milk)
1 TBSP AURA ENERGY MCT
1 TBSP carob powder (or cocoa)
1 TSP cinnamon
Dash of organic maple syrup or stevia (optional sweetener)
What To Do
In a milk frother, combine water and milk for 15 seconds, then add all ingredients (you can save the sweetener for last to sweeten as you like). Allow ingredients to froth together for roughly 30–45 seconds, pour into your fave mug and enjoy! If you don't have a frother, heat water and milk in a pot or saucepan until hot, combine all ingredients into a blender and blend on low for 60 seconds.
---
TAG @yourAURAnutrition IN YOUR BAKING/RECIPES!
We would love to share your success and inspire bakers everywhere!" to any/all of our baking recipes. In addition, we can add this to all our recipes and just change the word "baking" to "smoothie bowl creation/to inspire smoothie bowl creators everywhere!