Recipes
Superfood Oatmeal Recipe
by Sarah Choi on Apr 23, 2020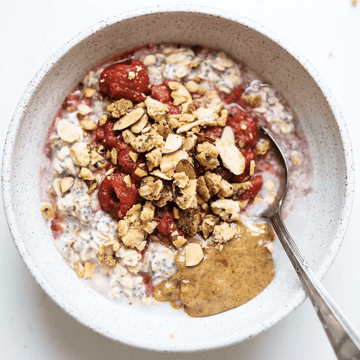 Your morning oatmeal CAN be packed with superfoods to boost your immune system! Manuka honey has massive digestion and immune system benefits. To reap the digestive benefits of Manuka honey, it is recommended to have 1–2 tablespoons per day.
What You Will Need For Today's Superfood Oatmeal Recipe:
1/2 CUP organic quick oats
1 TSP chia seeds
1/2 CUP 
1 TBSP manuka honey
1 TSP maca
3/4 CUP water or unsweetened plant milk (vanilla is a great choice)
*If eating post-workout, we recommend adding some mixed granola and a tablespoon of almond butter like we did!
What to Do:
Boil or heat your liquid and add to your oats and chia in a bowl (or mason jar if you are on-the-go). Stir and let this sit for 3–5 minutes (the chia seeds will absorb liquid and add heartiness to your breakfast). Next stir in your maca powder, then stir/add your raspberries, allow the raspberries to rehydrate in the liquid for 20 seconds. Top with Manuka honey and enjoy!