Recipes
Double Chocolate Black Bean Cookies (V / GF) Recipe | AURA Kitchen
by Sarah Choi on Apr 23, 2020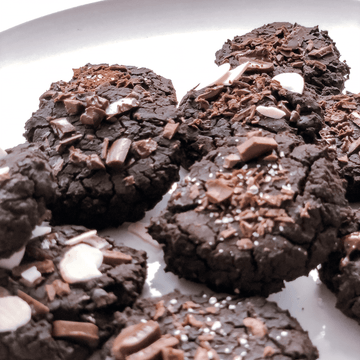 Fudgy, chewy, packed with protein and made with sneaky black beans! A healthy alternative to your traditional chocolate cookie and we can guarantee your kids won't know the difference, and that your sweet tooth will be satisfied! This recipe is vegan and gluten-free, but you can adjust based on the ingredients you have on hand (i.e. a different flour, or honey as a sweetener).
12 QTY. | 30 MINS.
What you will need for Double Chocolate Black Bean Cookies:
1 can black beans (15oz rinsed/drained)
2 TBSP olive or melted coconut oil
1/4 TSP baking soda
6 TBSP cocoa powder
4 TBSP coconut sugar (or any granulated sweetener)
2 TBSP maple syrup
2 TBSP plant milk (coconut or oat is preferred but any will work)
2 TSP vanilla
1/4 C dark chocolate chips (or more if you want!)
*Makes roughly 12 cookies.
What To Do
Preheat the oven to 350 degrees.
Put all of the ingredients into a food processor/blender in the order listed EXCEPT for the dark chocolate.
Process/blend until smooth and well combined, scraping down the sides as needed.
Using a spoon, scoop the dough out onto a parchment paper-lined cookie sheet.
Top each cookie with a sprinkle of the chopped dark chocolate (or get creative as we did with some slivered almonds and sea salt).
Bake the cookies for 18 – 20 minutes.
Cool completely and ENJOY (cooling is VERY important so they don't fall apart as they have no binder or gluten).
---
TAG @yourAURAnutrition IN YOUR BAKING/RECIPES
We would love to share your success and inspire bakers everywhere! To any/all of our baking recipes. In addition, we can add this to all our recipes and just change the word "baking" to "smoothie bowl creation/to inspire smoothie bowl creators everywhere!