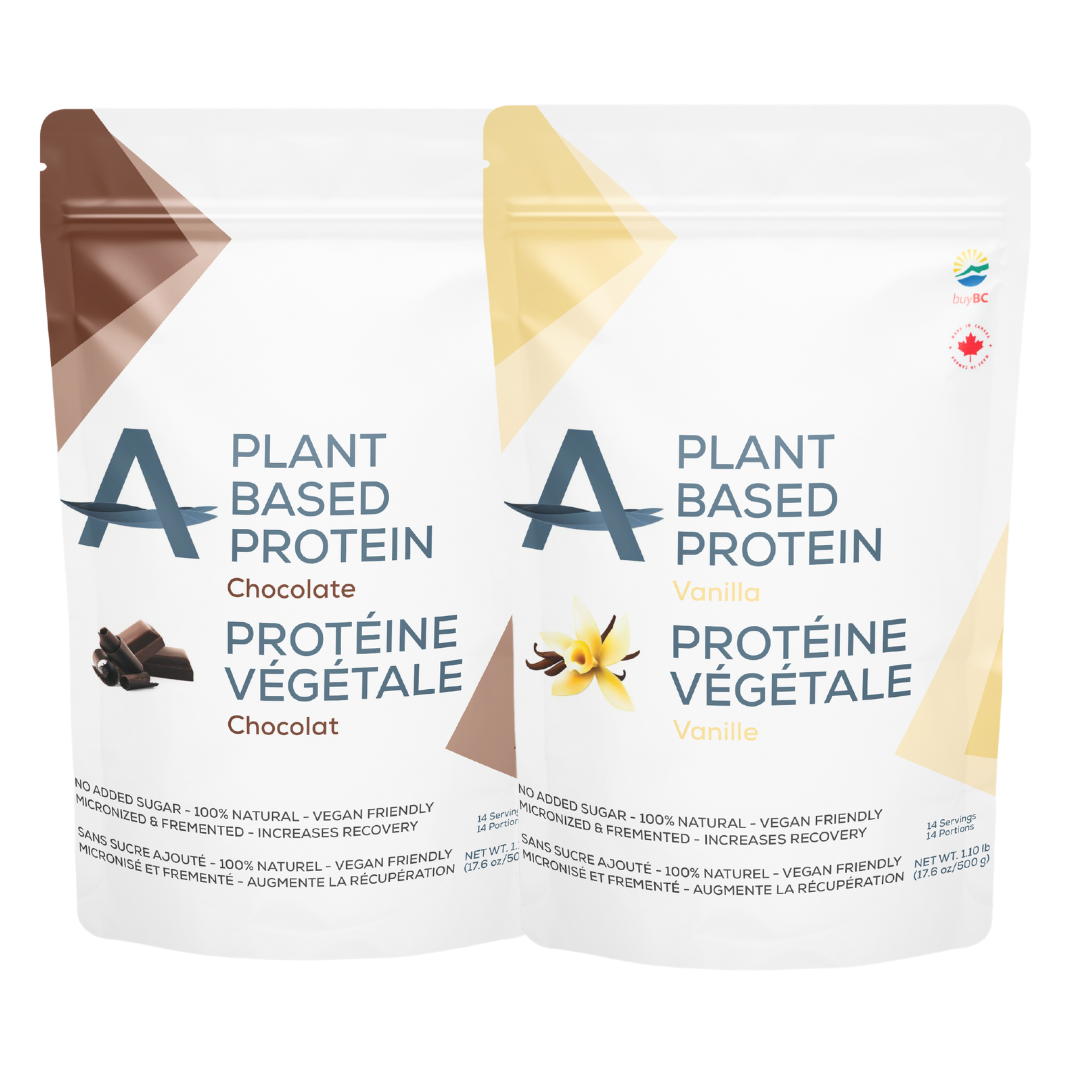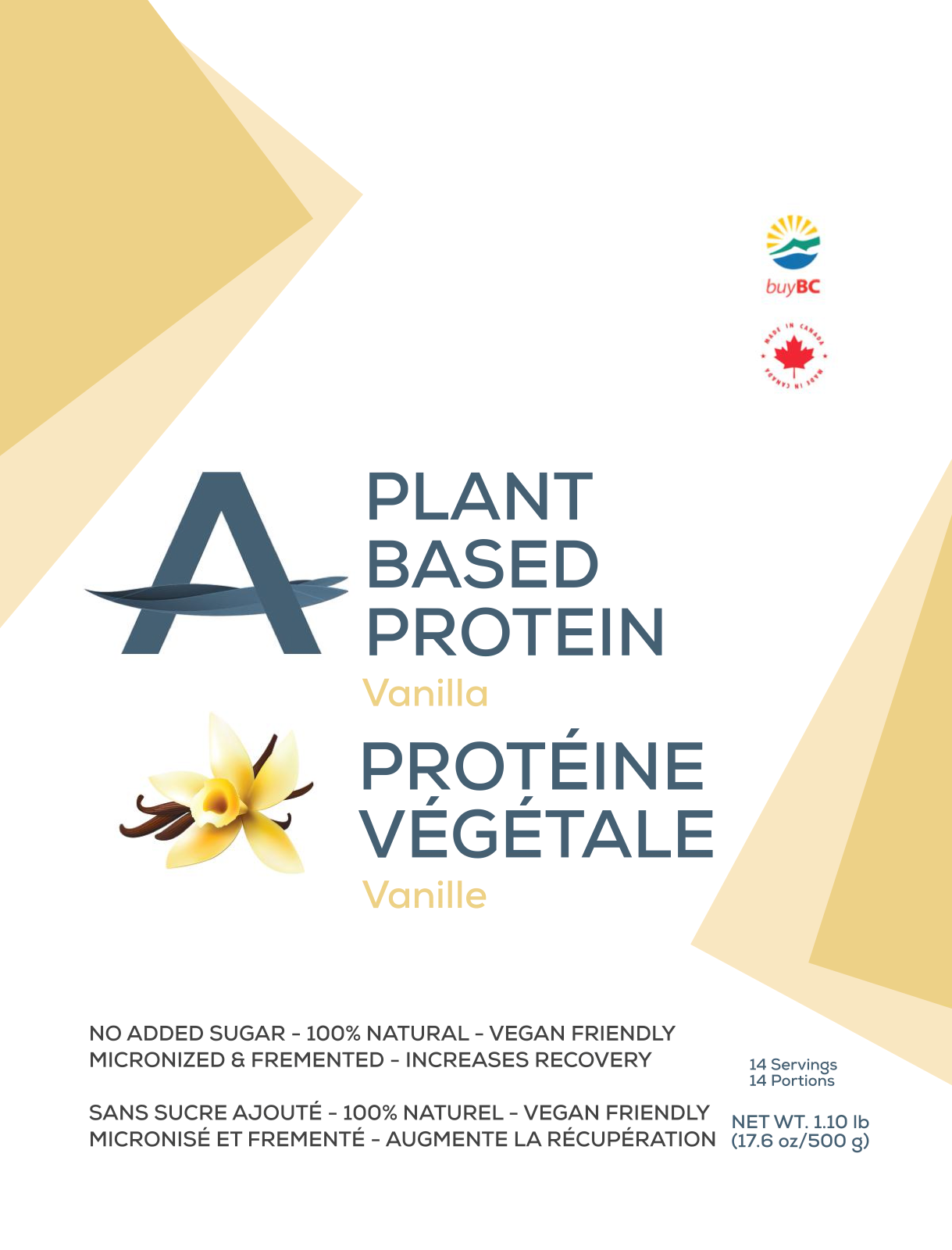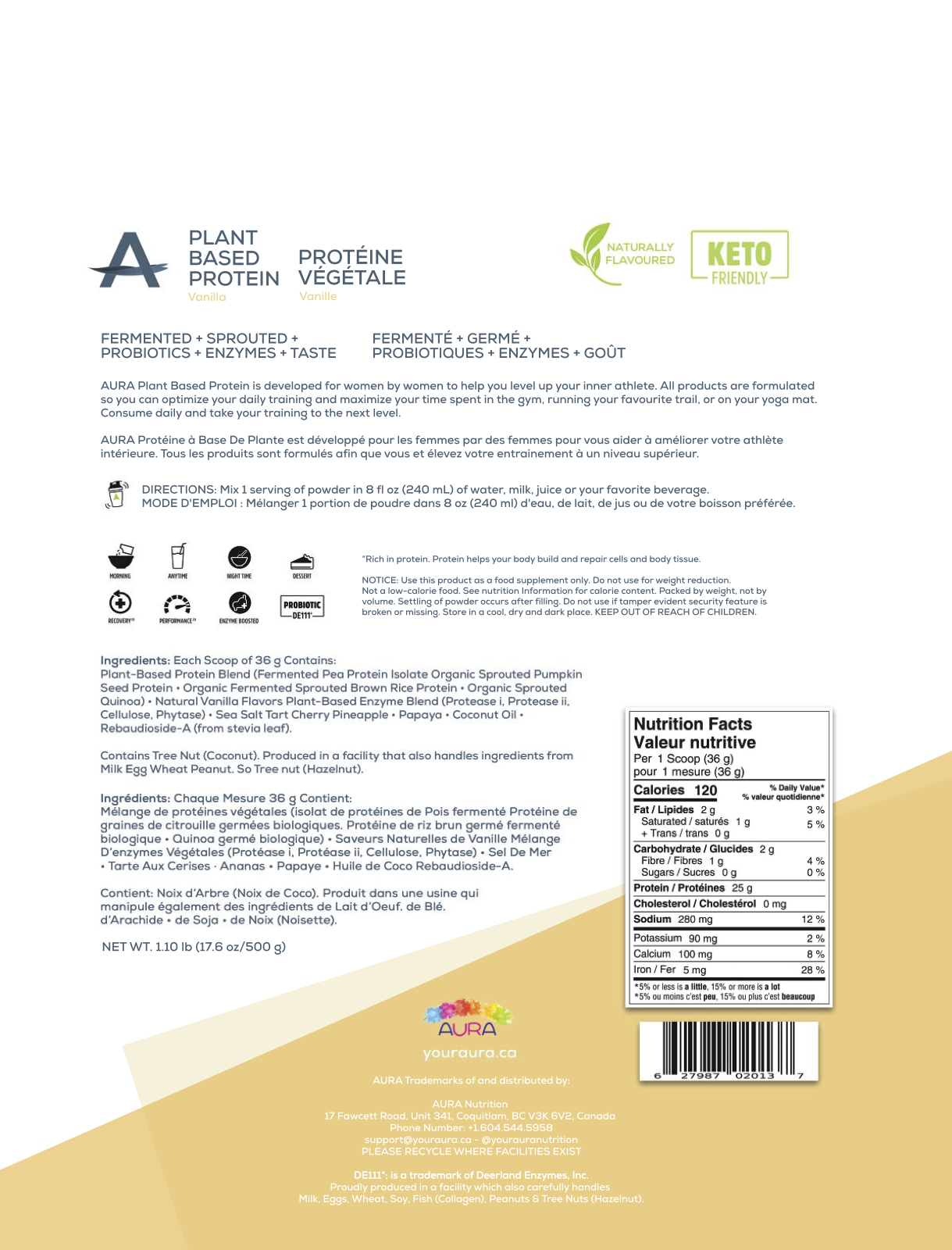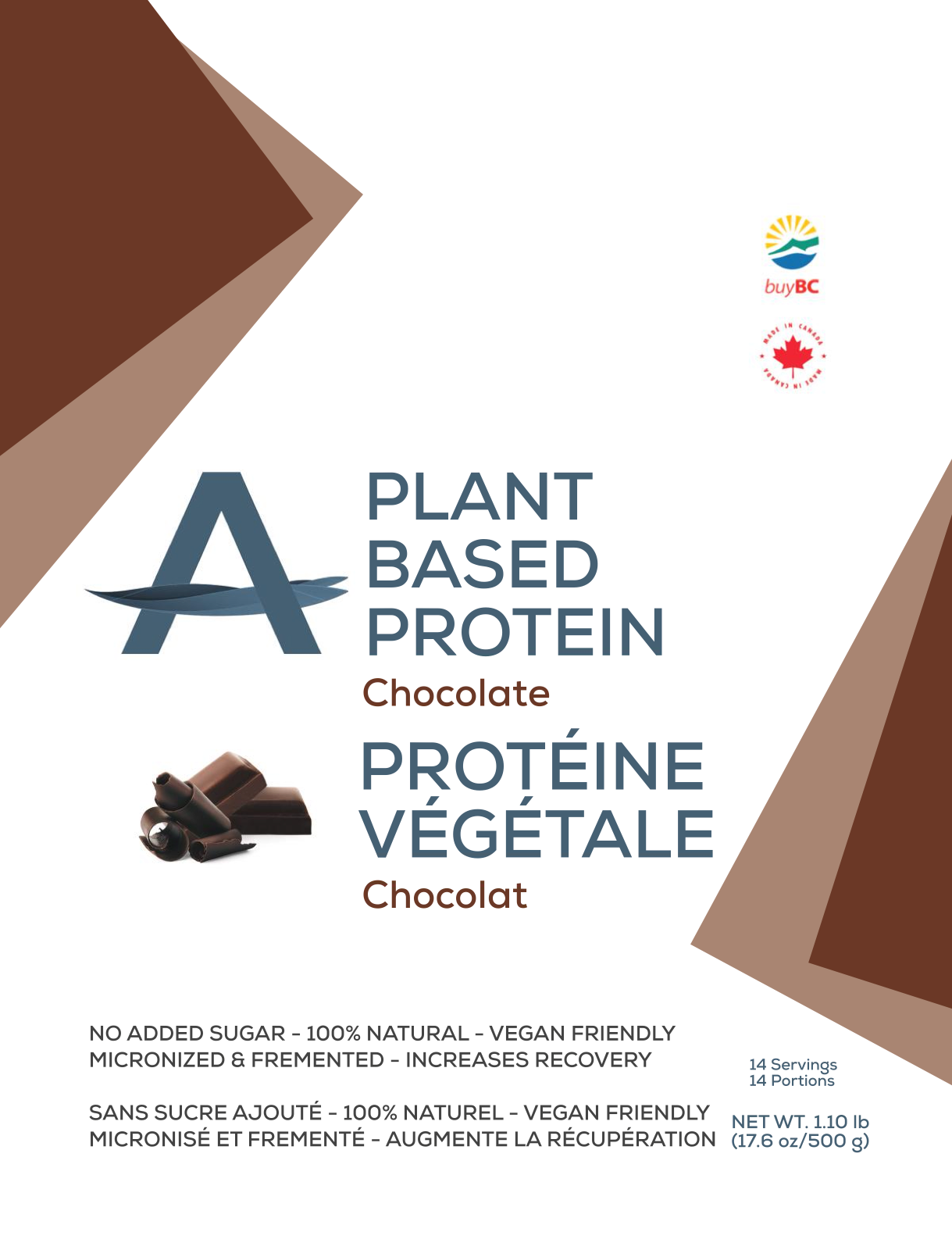 Protein Bundle - Get Vanilla & Chocolate Plant-Based Protein Powder 500g
Sale price
$70.40 CAD
Regular price
$87.98 CAD
Plant-Based Protein 500g is the best plant-based protein option with zero sugar, 25g of complete plant protein, and athlete tested to ensure quality. It's a great source of plant nutrition crafted to help fuel your daily physical activities while also offering some valuable benefits. 
50 people are viewing this right now
Estimated Domestic Delivery:Sep 30 - Oct 04

Free Shipping & Returns: Free shipping on any orders over $50 for Canada and United States customers, automatically calculated at checkout.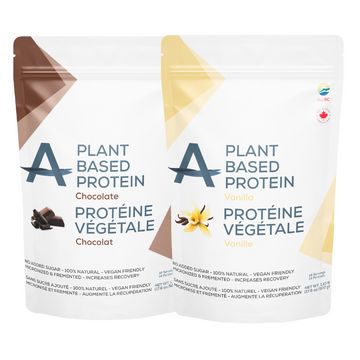 Protein Bundle - Get Vanilla & Chocolate Plant-Based Protein Powder 500g
Sale price
$70.40 CAD
Regular price
$87.98 CAD
Product description
Key Features
Health Benefits
Ingredients
FAQs
Customer reviews
Bundle & Save! Get each of 500g of AURA Plant-Based Protein Vanilla and AURA Chocolate Plant Based Protein.
Plant-based diets need thoughtful considerations to ensure your body is getting everything it needs. AURA Plant Based Protein has all essential amino acids, BCAA's, and the perfect blend of organic pumpkin seed, organic fermented sprouted brown rice, fermented pea and organic quinoa. Women's bodies have unique needs. Our plant-based enzyme blend, along with a protein blend focused on digestion, is what you need to avoid bloating and discomfort. Product size:  2 Pack 1,000g / 28 Servings
• A mixture of Sprouted, Organic and Fermented Protein Sources
• 25g of Complete Protein (5g BCAAs)
• Fortified with Key Plant-based Enzymes to optimize digestion
• Blended with calcium and fermented ingredients to support the macronutrient profile of the female body
• Zero Sugar
• Low Carbohydrate and Fat Content
• Aids in weight management (helps people feel fuller longer)
• Helps build lean muscle
• Help repair damaged muscles and tissues after a workout
• May reduce inflammation
• May lower blood pressure
• May help relieve symptoms of Type 2 diabetes
• May be easier to digest than whey-based protein powder, as sprouted protein sources increase bioavailability, digestibility and absorption.
• May decrease calorie consumption leading to weight loss

INGREDIENTS
Each Scoop of 35 g Contains:
Protein blend (fermented pea protein isolate, sprouted pumpkin seed protein, organic sprouted brown rice protein, organic sprouted quinoa, sprouted water lentil protein), cocoa, natural chocolate flavours, enzyme blend (phytase, protease I and II, pineapple, papaya, cellulase, amylase), sea salt, debittered stevia leaf extract, tart cherry, MCT oil (fractionated coconut oil), probiotics (Bacillus subtilis DE111®, Lactobacillus fermentum [1 billion CFU/serving]), luo han guo (Siraitia grosvenorii) fruit extract.

Contains Tree nuts (Coconut). Produced in a facility that handles ingredients from Milk, Egg, Wheat, Peanut, Soy, and Tree nut (Hazelnut).
RECIPES:
Check out our recipes section for inspiration, or tag your favourite creation on social for a chance to be featured!
Why is there a blend of 4 protein sources?
Each protein in our blend has strengths and weaknesses but by combining these four select types of proteins we showcase only their strengths. AURA's Plant-Based Protein has achieved a smooth, balanced, nutritious protein with a complete amino acid profile and no of the gritty texture typically associated with plant-based proteins.

Are fermented and mixture of sprouted protein sources important?
Yes! Fermentation increases the bioavailability of nutrients and improves digestibility. Improved digestibility has the added benefit of minimizing or eliminating bloating too. Using a mixture of sprouted protein sources also increases bioavailability, digestibility and absorption. Overall, the result of fermented and sprouted protein sources is better nutrition.

Is AURA's Plant Based Protein a clean–label product?
Yes! We don't add any artificial sugars, flavours, colours or preservatives.

How is AURA's Plant Based Protein sweetened if there is no added sugar?
We use natural vanilla flavours and stevia for our delicious vanilla taste.

How do I use my Plant Based Protein?
Our Protein is made to mix easily with water, milk or a non-dairy alternative. Customize the sweetness by changing the amount of preferred liquid. Works well as a shake or in a smoothie. For all our protein recipes check out our website.

Where do I store my Plant Based Protein?
A cool place away from sunlight and moisture is the best place to keep your protein fresh.

Is Plant Based Protein safe while I am pregnant or breastfeeding?
We always recommend that you talk to your healthcare practitioner when you are expecting or breastfeeding because nutritional requirements vary.