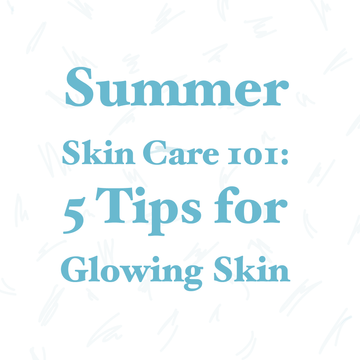 5 TIPS FOR GLOWING SKIN
1. LIGHTEN UP YOUR ROUTINE
If you're not wearing a winter coat, why should your skin? The heat and humidity of summer naturally add a level of hydration to your skin. This means you can swap out a heavier cleanser (think cream or oil cleanser) in favour of a gentle, foaming option. Try just using a washcloth and warm water on days you aren't wearing any makeup.
2. USE A DUAL–PURPOSE MOISTURIZER (YES TO SPF!)
A lightweight, combination moisturizer and sunscreen is very important to keep potential wrinkles at bay. Due to spending more time outside, and that bright sun, we are often squinting more and over-exposed to UVA/UVB rays in general… and in 2020, these are a lot stronger than they used to be. Here are 21 lightweight moisturizers with SPF of 30 or higher.

3. TAKE A COLLAGEN SUPPLEMENT
Collagen is a major component of your skin, and unfortunately, our body's production declines around the age of 25. It plays a role in strengthening skin, plus may benefit elasticity and hydration. Several studies have shown that collagen peptides or supplements containing collagen may help slow the ageing of your skin by reducing wrinkles and dryness. Collagen also boasts a myriad of other benefits. Take a tablespoon daily, and keep that youthful glow. AURA offers a few collagen product bundles to jump-start your daily routine!
4. ADD AN EXFOLIATION SKIN-CARE STEP
We recommend doing this 1—2 times per week. We tend to be sweating much more, spending more time outside and due to the increase in SPF we are using, our pores tend to get blocked. BYRDIE offers a list of 20 exfoliating washes, pads, overnight treatments and more.
5. DON'T FORGET TO HYDRATE
Hydration is important year-round, but even more so in the summer. Aim for 3L of water per day. In just 3—4 days, you will see visible results in your skin, feel more energized and your body will love you! Hydration can also help skin recover faster after a sunburn — but since we are using SPF, we should never get one of those, right?
---
Kate Marshall is an AURA Team member with a passion for health, fitness and wellness.