Recipes
Blueberry Boost Smoothie Bowl Recipe
by Sarah Choi on Jan 02, 2020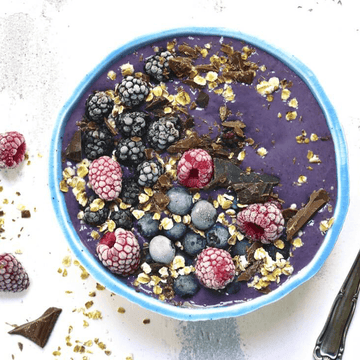 She did it again. @tiu_archaeologist created a super smoothie bowl that doesn't just look beautiful but taste delicious too!
Have you been cramming all the clean energy and vitamins I can into my body this morning because I feel like a cold is try to take over my body, and I have too much to do to let this bad boy win?
So today, I'm resting, drinking all the water and green juice, getting out all the essential oils, and fuelling my body with all the vitamins and nutrients it can handle. And I'm starting with this antioxidant-packed and natural energy-boosting smoothie bowl. 
Today's Immunity boosting breakfast you will need:

Ingredients
1/2 frozen banana
1 C frozen cauliflower
1/2 C frozen blueberries
1/4 C frozen mango
1 TBSP chia seeds
1 TBSP ground flaxseed
1 TBSP cacao nibs
1 TBSP almond butter
1 TBSP AURA Energy (made from 100% MCT)
1 scoop AURA Plant Based Vanilla Protein
1 C unsweetened almond milk.
Instructions
Blend and top with granola, blueberries, freeze-dried raspberries, unsweetened coconut flakes, and almond butter.
---
TAG @yourAURAnutrition IN YOUR BAKING/RECIPES!
We would love to share your success and inspire bakers everywhere!" to any/all of our baking recipes. In addition, we can add this to all our recipes and just change the word "baking" to "smoothie bowl creation/to inspire smoothie bowl creators everywhere!