Recipes
Cashew Cookie Dough Bar Recipe
by Sarah Choi on Jan 13, 2020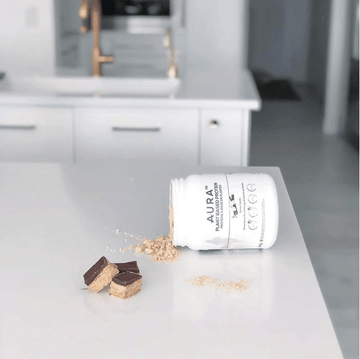 What you will need for today's Cashew Cookie Dough Bars
1/4 C unsweetened Almond milk
1/2 C @enjoylifefoods Chocolate chips
What To Do
Line an 8 x 8-inch square baking dish with parchment paper.

Mix oat flour, almond flour, protein powder, salt and baking soda in a large bowl.

Add in the maple syrup, cashew butter, almond milk and vanilla. Stir until you have a large ball.

Using slightly wet hands or a baking spatula and press the dough evenly into the baking dish.

Make chocolate coating by placing chocolate chips, coconut oil and cashew butter in a small saucepan on low and stir until melted.

Pour the chocolate over bars and use a spatula to spread evenly. Top with a sprinkle of Himalayan sea salt.

Freeze for 1 – 2 hours before slicing into 9 bars or 12 mini. Keep in an airtight container in the fridge or freezer.
Visit Michelle Method - Certified Nutrition Coach's website to learn more!
---
TAG @yourAURAnutrition IN YOUR BAKING/RECIPES!
We would love to share your success and inspire bakers everywhere!" to any/all of our baking recipes. In addition, we can add this to all our recipes and just change the word "baking" to "smoothie bowl creation/to inspire smoothie bowl creators everywhere!