Recipes
Chocolate Collagen Raspberry Waffles Recipe | AURA Kitchen
by Sarah Choi on Apr 10, 2020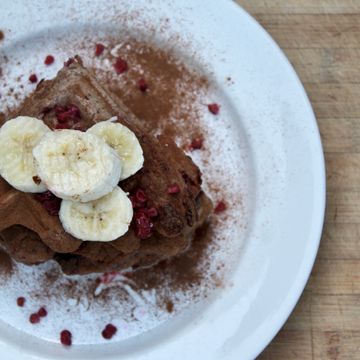 Who doesn't want healthy chocolate waffles? These waffles are not only delicious but packed with protein and nutrients. Our Wild Ocean Marine Collagen will help
your body to restore your skin's hydration and youthfulness, all while helping to build lean muscle, burn fat, alleviate joint pain and maintain bone health.
What you will need for Chocolate Collagen Raspberry Waffles
1 C of Flour (any type will do!) 
1 TSP baking powder 
1 C milk or water (any kind of milk)
2 eggs or Flax egg
1 TBSP of Cacao 
Dash of Cinnamon
What to Do
In a medium-sized bowl combine flour, baking powder, milk or water, eggs, AURA Wild Ocean Marine Collagen, cacao and cinnamon.
Once the batter is mixed, add raspberries and fold them in. 
Scoop into your waffle iron and cook. Top your waffles with some sprinkled cinnamon, raspberries and syrup!
---
TAG @yourAURAnutrition IN YOUR BAKING/RECIPES!
We would love to share your success and inspire bakers everywhere!" to any/all of our baking recipes. In addition, we can add this to all our recipes and just change the word "baking" to "smoothie bowl creation/to inspire smoothie bowl creators everywhere!