Recipes
No-Bake Strawberry Margarita Pie | FOODIE FRIDAY
by Sarah Choi on Aug 31, 2020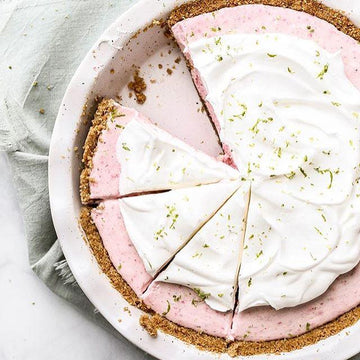 Is your mouth watering yet? Because ours is! This is the perfect end of summer pie!
@grandbabycakes Has created this recipe and we couldn't resist ourselves from sharing it! Here is the full recipe:

What you will need for today's No-Bake Strawberry Margarita Pie:
For crust:
1

graham cracker crust

Ingredients for graham cracker crust:

2

C

 

graham cracker crumbs

2

TBSP

 

granulated sugar

optional
For filling:
3

1/2 

C

 

fresh strawberries

sliced

1

TBSP

 

finely grated fresh lime zest
1

/

4

C

 

fresh lime juice

14

ounces

sweetened condensed milk

1 can

2

TBSP

 

tequila

2

TBSP

 

orange juice

1

1/2 

C

 

chilled heavy cream

Strawberries and lime slices for garnish
What you need to do:
To Make Crust:
Preheat oven to 350 degrees.
Whisk together graham cracker crumbs and sugar until combined in a large bowl.
Next pour melted butter into the mixture and mix together until crumbs are well coated. Pour the mixture into a 9-inch pie plate and press down into the plate and around the sides.
Bake for 10 minutes to set.
Notes
This recipe can be doubled if necessary for cheesecake crust or other recipes that require a thicker crust or larger pie plate.

This recipe only has 2 major ingredients and one additional optional one:

Graham Cracker Crumbs
Melted Butter
Sugar which is optional


These ingredients mixed together create something so special. They create a wonderfully stable crust.

To start, you'll need graham cracker crumbs, which can be quickly made by placing your graham crackers in a food processor and pulsing until they are fine crumbs.

Tip: If you do not own a food processor, place the crackers in a large Ziploc bag, seal properly and go to town on them with a rolling pin or meat tenderizer. Great way to relieve a little tension!

Place your crumbs, sugar and butter in a large bowl and mix together until the mixture is a little bit crumbly but holds together when squeezed in your hands.

Scoop the mixture into the pie dish of your choosing and press it down firmly on the bottom and up the sides.

Tip: You can use the back of a spoon or bottom of a measuring cup to help create a smoother, more even texture.

Pop the crust in the oven and bake for 10-minutes so that your crust will be nicely set. There you have it, a simple, homemade buttery crust that crumbles in all the right ways. All you have to decide on is what delicious filling to use tonight!
To Make Filling:
Add strawberries, zest, lime juice, condensed milk, tequila, and orange juice to your blender or food processor and blend or pulse until completely smooth.

In the bowl of your mixer, add heavy cream and beat until stiff peaks appear.  You can tell by making sure the whipped cream stays on the beaters.  

Pour strawberry mixture from the blender to a large bowl then slowly fold in 1/2 of the whipped cream then fold in the final amount until everything is completely smooth and well combined.

Add the filling to a complete room temperature crust and freeze for at least 5 hours.

Remove pie from the freezer an hour before serving and enjoy!
Notes
If you want to replace the tequila in this recipe and make it family-friendly, just add more orange juice.
---
TAG @yourAURAnutrition IN YOUR BAKING/RECIPES!
We would love to share your success and inspire bakers everywhere!" to any/all of our baking recipes. In addition, we can add this to all our recipes and just change the word "baking" to "smoothie bowl creation/to inspire smoothie bowl creators everywhere!