Recipes
Vegan Apple Cider Protein Donuts
by Sarah Choi on Jan 05, 2021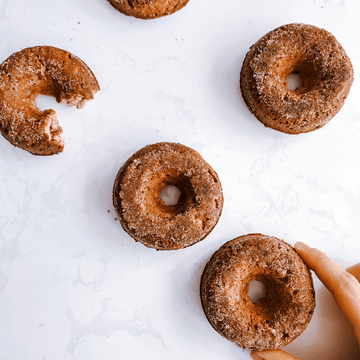 It's January and health goals are in full swing! We believe finding healthy replacements for your fave treats is the key to staying on track.
Save this for your weekend baking / healthy treat prep!
Photo credit and recipe from our friend Celine, My Momentum.
These are great for a on-the-go treat to satisfy that sweet craving!
WHAT YOU NEED
1.5 cups flour of choice
1/2 cup AURA Vanilla/Chocolate Plant Based Protein
1
/
2
cup organic cane/coconut or monk fruit sugar
2 tsp baking powder
2 tsp baking soda
2 tsp cinnamon
1 tsp apple cider vinegar
1
⁄
4
cup vegan butter, melted (can sub-melted coconut oil or vegetable oil)
1 tsp vanilla extract
WHAT TO DO
Preheat the oven to 400° F and spray a donut pan with cooking spray.
Mix the dry ingredients together in a bowl.
Mix the wet ingredients together in a separate bowl.
Pour the wet ingredients into the dry and mix just until combined. Do not overmix. (It's okay if theres a few small clumps in the batter. It doesn't need to be completely smooth.) 
Using a piping bag, (or a large ziplock bag with the corner cut out) pipe the dough into the donut moulds filling 3

/

4 of the way.
Bake for 9—11 minutes or until a toothpick comes out clean.
To coat the donuts, mix the sugar and cinnamon together in a ziplock bag. Lightly coat each donut with a little melted butter or coconut oil and then place each donut in the bag and shake it around until it's covered.